The EOH Group has navigated two crises, firstly the legacy issues due to corporate and governance failings and a second crisis when COVID-19 impacted operations at a time when significant progress had been made towards stabilising the business and positioning it for a sustainable growth trajectory.
ECONOMIC CONDITIONS
Global economic growth slowed to 2.5% in calendar year 2019 as growth moderated in emerging markets and decelerated sharply in the advanced economies. World trade volumes contracted for the seventh consecutive month in December 2019 as trade tensions continued to weigh on sentiment. This was particularly evident in emerging markets1.
Real gross domestic product (GDP) in South Africa contracted by 1.4% in the fourth quarter of 2019, following a decrease of 0.8% in the third quarter of 20191. The slowdown in economic activity was linked to a slowdown in household real disposable income, weaker consumer confidence and rising unemployment.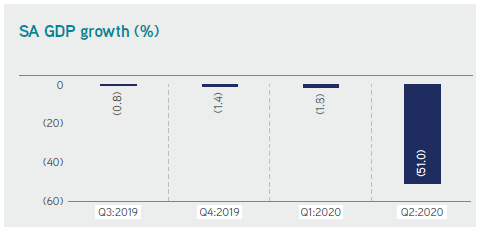 The first and second quarters of 2020 were characterised by the impact of the COVID-19 pandemic on global demand and supply. World trade volumes contracted further in the second quarter of 2020, due to the sharp decline in output in many countries as a result of production stoppages and ports operating at reduced capacity. South Africa's economy suffered a significant contraction during the second quarter of 2020, when the government introduced lockdown restrictions in response to COVID-19. GDP fell by approximately 16% between the first and second quarters of 2020, resulting in an annualised contraction of 51%2. This significantly exceeds the annualised economic slowdown of 6.1% recorded in the first quarter of 2009 during the global financial crisis.
Business confidence3, which was at low levels throughout 2019, fell to an all-time low in the second quarter of 2020, before returning to 2019 levels in the third quarter. This statistic provides insight into the mindset of EOH's B2B client base.
According to the Quarterly employment statistics (QES) survey released by Statistics South Africa (Stats SA), formal sector jobs decreased by 671 000 year-on-year in the second quarter of 2020. The official unemployment rate increased to a record high of 30.1% in the first quarter of 2020, indicative of a labour market already in distress before the outbreak of the COVID-19 pandemic.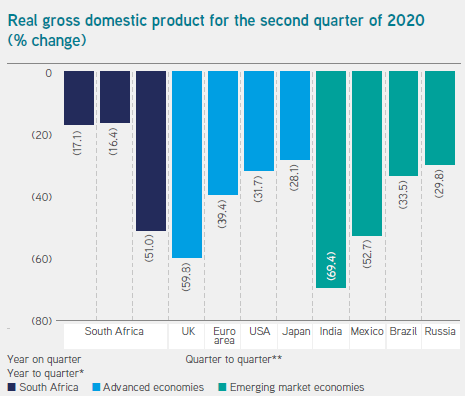 OUR CUSTOMERS' EVOLVING NEEDS DUE TO COVID-19
While many of our customers were under pressure as a result of COVID-19, which had an impact on our ability to drive growth, this was offset by the need to fast track digital transformation. There has been increased demand from clients for solutions focused on security, cloud computing and remote access solutions. We were able to use our digital technology expertise to enable customers to be resilient and transformative, and in the process developed a number of solutions aimed at supporting our customers and government during COVID-19 and beyond. We worked with clients to develop solutions to enable a safe return to work through our range of crisis management tools and remote working solutions, for example the Sikhona App and our Infor solution, which improves supply chain efficiencies with streamlined online collaboration.
A range of clients that were not historically in eCommerce started accelerating the digitisation of their new client experiences and business models. eCommerce solutions delivered to customers included Digital On-boarding Verification Solution (DOVS), which uses advanced facial recognition software, 3D face-mapping and real-time liveliness testing to instantly and securely onboard and verify customers from their mobile devices.
Digitisation of the back office environment and cost optimisation also took centre stage. This is also evident in industries, where digital industrial technologies are increasingly being used to automate manufacturing, mining and quality control to improve quality and reduce reliance on human intervention.
ESG
There has been increased focus on a global scale on environmental, social and governance (ESG) issues in recent years. Stakeholders are looking for standardised, consistent and easy-to-understand data on key sustainability topics and are demanding more transparency from corporates regarding their efforts in this regard. For many investors, sustainability is a priority in terms of how they make their investment decisions. A management team that identifies and understands the key ESG topics that are material to the company and the industry is better able to manage risk, execute strategy and create long-term increases in shareholder value.
Corporates are expected to enhance their sustainability disclosures in order to be consistent with the Sustainability Accounting Standards Board (SASB) and demonstrate how ESG issues are incorporated into strategy. SASB has developed industry-based standards intended to help companies "identify the handful of ESG and sustainability topics that most directly impact their value creation". EOH acknowledges the importance of ESG reporting and has made great strides in improving its governance framework and reporting over the past 18 months. This year's sustainability information is reported in terms of the Global Reporting Initiative's (GRI) Standards, Core option, and a GRI Index that links to our sustainability disclosures is available on our website www.eoh.co.za. We are in the process of evaluating our functions and operations as part of our sustainability strategy in order to enhance our reporting through these voluntary frameworks.
EOH is committed to embedding sustainability as part of our business practice. This requires alignment with the requirements of King IV Code as well as aligning to and adopting the 10 principles of the United Nations Global Compact. We have also prioritised eight Sustainable Development Goals (SDGs) that are contextually factual to our offering and operations.
In this year we achieved a Board approved sustainability policy that resulted in the rollout of training during the year on our prioritised Sustainability Themes, SDGs, understanding the Triple Bottom line and an overview of ESG pillars for assessing risks and returns.
In the coming year, we plan to implement an ESG system to assess the materiality of the indirect benefits and value creation made by EOH on multiple stakeholders through our interaction with clients, suppliers, society, the environment as well as existing and emerging market segments.