EOH is one of South Africa's largest technology services companies and has a wide range of solutions in Industry Consulting, IT Services, Software, Industrial Technologies and Business Process Outsourcing. The Group continues to be an undisputed market leader in its core ICT businesses which operate principally under the iOCO brand name. Our solutions are systemic to both the public and private sector in South Africa and we are an integral technology partner for a number of leading JSE-listed, blue-chip companies as well as key metros and government departments. As a proudly South African business, EOH is committed to sustainable transformation, making a positive, meaningful contribution to society, and is a Level 1 Broad-based Black Economic Empowerment ('B-BBEE') contributor.
The Group's 7 333* employees deliver services to over 5 000 enterprise customers across all major industries throughout South Africa. The Group also has a footprint across Africa, Europe and Middle East.
* Total employees including contractors
The EOH business comprises three major pillars with clear alignment of focus and groupings of value:

Sales & Advisory
Go-To-Market
Solutioning
iOCO Services
Network Solutions
Manage & Operate
Digital Industries
Knowledge Process
Outsourcing
iOCO Technology
Computer Software Reseller
Enterprise Applications
Computer Hardware Reseller
iOCO Digital
Application Development (App Dev)
Data Analysis
Cloud & Security
International
Automation
ICT business focused on traditional and cutting-edge technology system integration with a range of solutions, products and services across the ICT value chain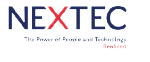 Business Process Outsourcing
Intelligent Infrastructure Solutions
A variety of businesses focused on business process outsourcing and technology infrastructure at various stages of incubation for growth and scaling

A group of high potential IP companies with scalable technology
GEOGRAPHIC REACH
EOH UK
Application Management business
ALLOS Italy
HR SAP Success factors business
Own IP products
iOCO Prague
Cloud business
Exploring IP reseller opportunities
NEXTEC
Business outsourcing and business infrastructure solutions

Sybrin
Presence across Africa and the UK
Payment solutions
Intelligent process automation and intelligent document processing
Clearing systems

EOH Switzerland
Presence in Switzerland and Austria
Sales channel for iOCO
ASSET Technology Group
Presence in Egypt, UAE and Saudi Arabia
EIM, Portals, CRM, Middleware, Smart Solutions
Own IP products (mainly EIM) Jupiter, Arrow, Telco +
developing Jupiter Cloud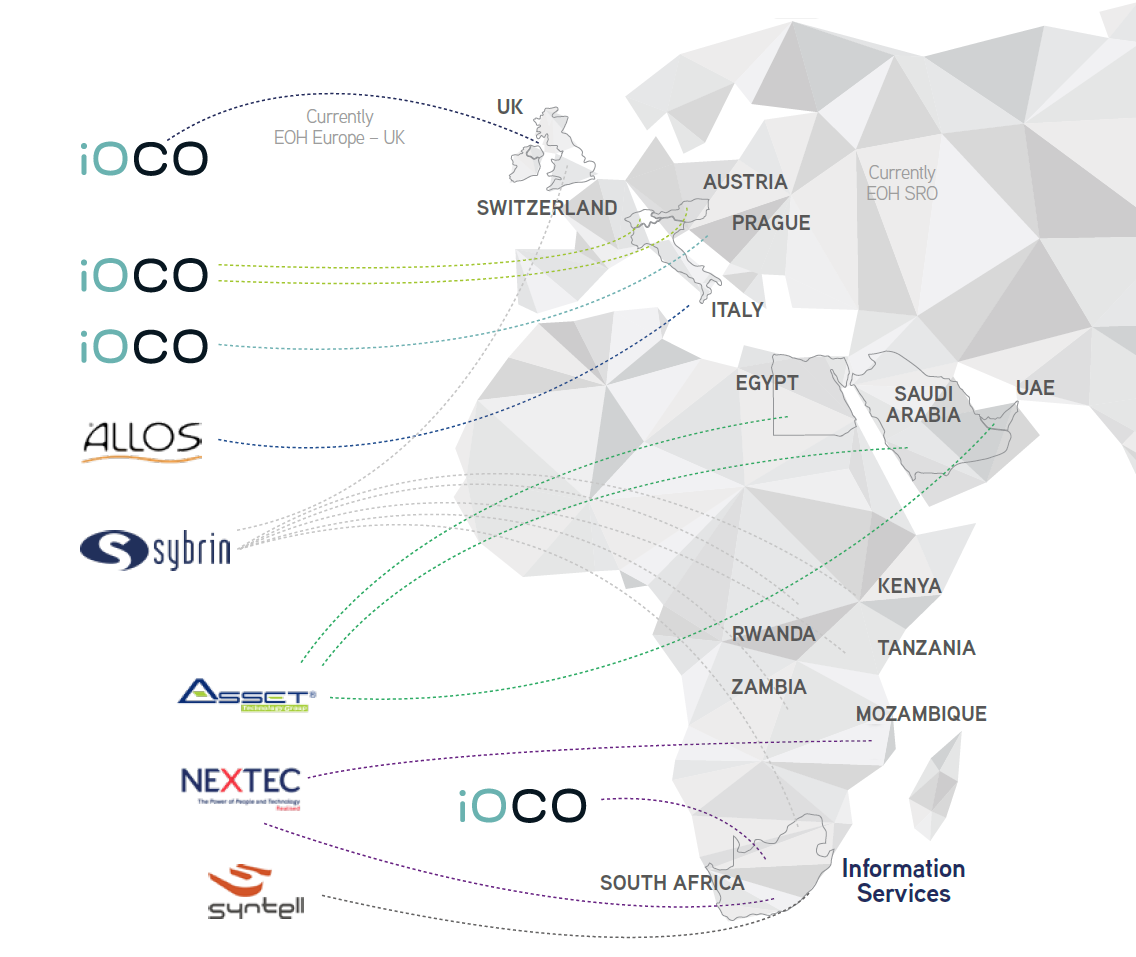 OUR GROUP PURPOSE
In a world where rapidly changing technologies are altering the course of humanity, our purpose is what defines us, reverberating deep within our core. Our purpose evokes pride, integrity and innovation in everything we do and moves us towards a sustainable and transformative future.

Our purpose is to SOLVE – for our clients and for ourselves. We exist to solve challenges courageously and exponentially using our deep industry expertise. While the world around us continues to transform, we adapt and remain united and anti-fragile through our commitment to each other, our clients and stakeholders.
OUR VALUES





TIMELINE

1998
Aggressive acquisition driven business model culminating in 272 legal entities and gross debt of c.R4 billion

2001-JULY 2018

SEPTEMBER 2018
Appointment:
Stephen van Coller (Group CEO)
Closure of BEE Lebashe deal with R750 million injector in September and December 2018

OCTOBER 2018
JANUARY 2019
Appointment:
Megan Pydigadu (Group CFO)
FEBRUARY 2019
ENSafrica investigation initiated

EARLY 2019
APRIL 2019
Appointment:
Fatima Newman (Group CRO)
Disposal programme aimed at reducing debt and rationalising business announced to market

JUNE 2019
Enhanced King IV compliant Board
Announced 70% sale agreement between CCS and RIB resulting in a partnership as part of disposal programme
ICT business relaunched as iOCO
Release of ENSafrica investigation report

JULY 2019

OCTOBER 2019
Turnaround Plan implemented with clear priorities under the pillars of Credibility, Liquidity, and Transparency
Entered into deleverage plan with lenders to be completed Q3: 2021
Appointment of PwC as the new auditors for FY2020
Exceeded R1 billion disposal target for 2019

DECEMBER 2019

FEBRUARY 2020
Appointment of Andrew Mthembu as Chairman of the Board

APRIL 2020
Repaid R542 million to lenders largely from disposal proceeds
Announced sale of remaining 30% stake in CCS
IMPLEMENTATION OF GROWTH STRATEGY

FY 2021
2020 PERFORMANCE OVERVIEW
Gross profit
R2 469 million
Core Normalised
EBITDA
R827 million*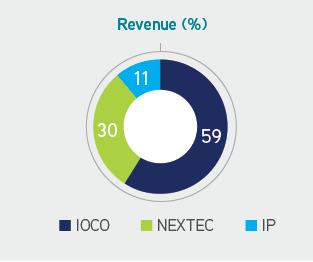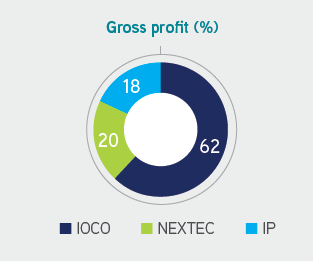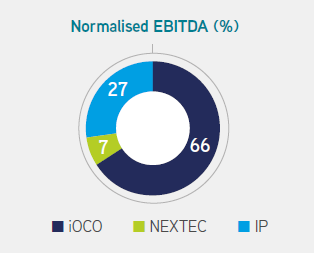 SALIENT FEATURES FOR THE YEAR
Core iOCO business delivered positive performance and remained resilient despite COVID-19 disruption
NEXTEC turnaround evident in the second half of the year under review
Completion of growth strategy with defined focus areas for the near‑term
Progress made towards establishing a fit-for-purpose capital structure leading to positive EBITDA
Significant progress made towards reducing leverage
* Core normalised EBITDA per the consolidated annual financial statements is R932 million. The difference of R105 million relates to non-sustainable COVID-19 savings.