About EOH
EOH is one of the largest technology services companies in Africa and has a wide range of solutions in industry consulting, IT services, software, industrial technologies and business process outsourcing.
The Group continues to be an undisputed market leader in its core ICT businesses, which operate principally under the iOCO brand name. The nature of this business is systemic to both the public and private sector and is an integral technology partner for a number of South Africa's leading JSE-listed, blue-chip companies, as well as key metros and government departments.
The Group's c.10 500 employees deliver services to over 2 500 large enterprise customers across all major industries throughout South Africa, Africa, Europe and the Middle East. As a proudly South African business, EOH is committed to sustainable transformation, making a positive, meaningful contribution to society, and is a level 1 Broad-based Black Economic Empowerment ('B-BBEE') contributor.
EOH Group Purpose
To provide the technology, knowledge, skills and organisational ability critical to the development and growth of the markets we serve.
To be an ethical and relevant force for good and to play a positive role in society, beyond normal business practice.
Our Philosophies

Solutions that create value for our customers
To lead and grow innovative and sustainable technology solutions

A diverse, ethical, and talented workforce
To be a responsible employer, nurturing talent and the best people

A vibrant and innovative digital ecosystem
To nurture innovation, partnerships and growth in the digital sector

Building technology skills in communities
To invest in the digital and maths skills needed by future generations


The elimination of corruption
Share the lessons we have learned and enable a high integrity business

Taking action on climate change
Protecting our planet through enabling technologies
THE EOH BUSINESS COMPRISES THREE MAJOR PILLARS WITH CLEAR ALIGNMENT OF FOCUS AND GROUPINGS OF VALUE:
iOCO
An ICT business focused on traditional and cutting-edge technology system integration
NEXTEC
The NEXTEC grouping of a variety of businesses at various stages of incubation for growth and scaling
IP
A group of high potential IP companies with scaled technology, ready to be taken to market with partners
2019 Revenue (%)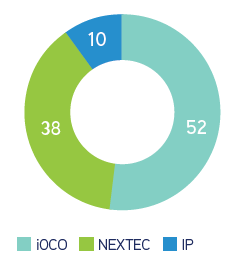 2019 Gross profit (%)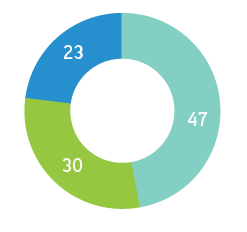 Salient features for the year under review
Enhanced King IV compliant Board and new executive leadership.
Strategic focus defined for the short term. Further refinement and assessment of portfolio ongoing.
Embarked upon a fit-for-purpose capital structure.
Progress made towards reducing leverage.
Key financial indicators
Continuing revenue – R11 791 million.
Normalised EBITDA – R792 million.
Cash of R1 049 million.
Net asset value of R1 957 million.