Commentary
"The past 12 months have been very difficult for EOH. We have spent extensive time focusing on cleaning up the business both from a governance and financial perspective as well as understanding the Group's strategic capabilities. I have been impressed by the spirit of my colleagues who have worked tirelessly during this challenging period. While there is much still to do, the path is much clearer. In the short term we will focus on continuing to deleverage our balance sheet while implementing governance changes and over the longer term we remain steadfast in a vision of a more synergised and focused offering that is well positioned to take advantage of the next wave of change in the ICT industry." Stephen van Coller, CEO.
SALIENT FEATURES
Enhanced King IVTM* compliant Board and new executive leadership.
Strategic focus defined for short term. Further refinement and assessment of portfolio ongoing.
Embarked upon a fit-for-purpose capital structure.
Progress made towards reducing leverage.
Key financial indicators:

Continuing revenue – R11 791 million.
Normalised EBITDA – R792 million.
Cash of R1 049 million.
Net asset value of R1 957 million.
OPERATIONAL OVERVIEW
The year under review has been one of the most challenging periods in the history of EOH. Three main themes have prevailed:
Rebuilding credibility through establishing robust governance.
Creating a fit-for-purpose capital structure.
Creating more transparency on the business and financials.
Enhanced governance framework
With Microsoft announcing its cancellation of the EOH Channel Partner Agreement and the subsequent ENSafrica investigation which uncovered R1,2 billion of suspicious transactions, management's efforts have been focused on ensuring the right leadership and governance structures are in place and that people are held accountable for what has transpired.
The ENSafrica team has made significant progress on the investigation. They have substantially completed their investigation into the R1,2 billion identified suspicious transactions.
This amount has since been modified to R935 million and includes transactions with no evidence of contracting or work done, valued at R665 million, loans written off of R90 million and overbilling valued at approximately R180 million. EOH has blacklisted and suspended payments to 50 enterprise development partners who were implicated in this activity. Some of these partners have initiated legal challenges against the Company, however, EOH will robustly oppose legal challenges brought by such parties.
The ENSafrica investigation team have also been able to confirm the key modus operandi that was utilised by the main perpetrators to commit wrongdoing at EOH which involved business partners and intermediaries.
The further investigation has confirmed that the main perpetrators of wrongdoing remain confined primarily to a small group of individuals in the public sector team. Apart from this type of wrongdoing, the investigation has also identified various opportunistic incidents of fraud and theft to the prejudice of EOH. This has resulted in the company initiating disciplinary measures which has led to the termination of employment relationships with a number of individuals.
Based on further information identified from ongoing whistle-blower reports and the ongoing investigation, the ENSafrica team have assisted EOH in making further reports to the authorities in line with our statutory reporting obligations. We have provided extensive information to the Hawks and the FIC and we are supporting and cooperating with the authorities. It is important to emphasise that EOH is actively pursuing criminal charges as a complainant against various individuals implicated in wrongdoing. The investigation team is working closely with the authorities to ensure that they are able to identify illicit money flows. EOH has initiated legal processes to recover losses caused by the perpetrators of wrongdoing.
Extensive work has already been conducted to simplify the corporate structure, implement robust risk management and mitigation initiatives, increase transparency, accountability and reporting.
A bid governance process framework has been implemented which aims to promote ethical business practices (commission payments, gifts or any other incentives as well as the use of sales agents or middlemen are prohibited when bidding for contracts for example) and includes:
Bid templates, controls, limits and mandates.
Review, monitoring and independent oversight.
Supplier and customer (enhanced) due diligence to the extent necessary.
A Gift Policy as well as a Declaration of Interest Policy have been introduced. Furthermore, in order for any employee to receive a commission or bonus or other incentive, the respective employee will be required to sign an anti-corruption warranty prior to such payment or award. The warranty will acknowledge the right of EOH to claw back any commissions or bonus if an employee has been identified to have contravened any policies at any time in the past or future relating to such payment.
Employees are required to attend mandatory training on the newly implemented Group governance, risk and compliance processes.
In addition to addressing the findings of the ENSAfrica investigation, the Company is focused on removing any culture of hierarchy and fear which dissuades employees from speaking up and voicing important issues related to the business.
Skilled and experienced executives in place to drive change
The EOH Holdings Limited ('the Group') leadership team has been reconstituted and bolstered with skilled and experienced executives appointed to drive change. The process of recruiting additional operational talent is ongoing.
The new executive team comprises:
Stephen van Coller, Group Chief Executive (start date 3 September 2018).
Megan Pydigadu, Chief Financial Officer (start date 15 January 2019).
Lufuno Nevhutalu, Executive Head for Public Sector in the ICT business (start date 15 March 2019).
Fatima Newman, Group Chief Commercial Officer (start date 8 April 2019).
In addition, the Board of EOH has been enhanced by the appointment of a new Group chairman and three independent non-executive directors:
Dr Xolani Mkhwanazi, Chairman (appointed 5 June 2019).
Dr Anushka Bogdanov (appointed 20 June 2019).
Mr Andrew Mthembu, Lead independent non-executive director (appointed 20 June 2019).
Mr Mike Bosman (appointed 20 June 2019).
The Group's Board is now aligned with King IV principles to support independence and governance. Additionally, the Company has retained leading talent in the technology industry who are driven to provide globally best-in-breed technology platforms and services.
A fit-for-purpose capital structure
The Group has historically raised the vast majority of its funding centrally, with the funding largely being used to drive the acquisition strategy. The repayment profile of the historic debt has not mirrored the cash-generation profile of the acquired businesses and as a result has placed strain on the Group. EOH is largely a service business with a light balance sheet that is unable to carry a large debt burden. Consequently, a deleveraging plan has been put in place to reduce the Group's debt through two primary focus areas:
Sale of non-core assets and portions of businesses to strategic partners
At the half year, a target of R1 billion of expected proceeds was set for the next 12 months. The Group has made good progress towards this target having already realised approximately R523 million in sales in the 2019 financial year. The most significant of these being the sale of 70% of CCS to a strategic partner, RIB, for a consideration of R444 million.
Building a more appropriate working capital structure
Historically there has been a lack of focus on working capital management with large tranches of cash tied up in debtors. At the half year a target was set to significantly reduce this balance. By 31 July 2019, the trade receivable balance decreased from R4,1 billion to R3,4 billion (before adjusting for current assets held for sale) with over R400 million realised from greater than 90 days at 31 January 2019.
At 31 July 2019 the Group was able to repay its bridge facility of R250 million taken out during the year and the debt balance decreased from R3,4 billion at 31 July 2018 to R3,0 billion at 31 July 2019.
Concerted attention has been paid to driving a more efficient approach to costs the effects of which will only be observed in the 2020 financial year. We continue to explore opportunities for cost management in order to settle on the appropriate cost base for the business.
Business Transparency
The Group has historically pursued an aggressive growth strategy underpinned by acquisitive growth and revenue and profitability being achieved with little regard or focus on the balance sheet. As a result a detailed review of the balance sheet commenced at the half year and continued into year end. The net asset value of the balance sheet reduced from R8.1 billion as previously reported at 31 July 2018 to c. R2,0 billion at 31 July 2019. This decrease included a restatement of the prior period.
The major focus areas include:
Reassessment of the goodwill balance – impairment of R1 855 million
Goodwill balances were reassessed in line with the strategy going forward and the performance of the underlying businesses to which the goodwill relates. Cash-generating units ('CGU') were also reassessed. A number of negative economic and operational events occured during the year ended 31 July 2019, which had a significant negative impact on certain underlying businesses of the Group. EOH has also gone through a review of its strategy impacting CGU allocations, this combined with the sale and discontinuation of non-core business activities has added to the substantial impact on the carrying value of goodwill. In total, R613 million was impaired in iOCO ('ICT') largely as a result of margin pressure and underperformance in certain of the businesses. The impact of the Microsoft licence cancellation also had a direct impact on trading and the carrying value of the goodwill in certain underlying businesses. In addition, R1 242 million goodwill was impaired relating to the NEXTEC business. These businesses are largely dependent on infrastructure spend and saw delays in projects starting and in project awards.
Impairment of equity-accounted investments – R268 million impairment
These investments are seen as non-core to the Group due to being subscale and geographically dispersed. EOH has been exiting these businesses during the year and subsequent to year end has exited the majority of them.
Write off of intangible assets – R520 million
Intangible assets have historically been recognised relating to internally generated software and development of intangibles as part of the implementation of ERP projects.
Write off of inventory balances related to purchase of licences – R113 million
Historically OEM licences were capitalised on the balance sheet when there were contractual requirements to buy a certain minimum level of licences with no end customer in mind.
Write off of WIP, trade receivables and previously recognised revenue on contracts – R754 million
Write offs relate to WIP recognised on projects that is unrecoverable and revenue recognition practices, where there were no valid contracts or other binding agreements.
Impairment of loan to GCT – R414 million
R424 million was recognised as a loan receivable on the balance sheet from the unwind of the GCT transactions at 31 July 2018. Various events of default have occurred on the loan resulting in a R414 million impairment. The Group continues to pursue legal avenues to collect this debt.
Impairment of loans and investment in TTCS – R541 million
TTCS was a 49% investment into a largely Zimbabwean ERP implementation partner and had a value of R962 million at 31 July 2018. Altogether R541 million was taken as an impairment to the prior year due to impairment indicators and events of default existing at 31 July 2018. The investment in TTCS has subsequently been sold for USD1 with one suspensive condition concluded post year end. At year end the investment was an asset held for sale.
Impairment of ED loans – R92 million
The impairment of Enterprise Development (ED) loans relates to loans lent to ED partners with no possibility of recoverability.
Certain of the above adjustments have been re-classified to the prior years and these have been detailed in note 6.
STRATEGY
A significant amount of time has been spent refining and revising the strategy for EOH to ensure that the Group is well positioned to take advantage of the next wave of South Africa's changing ICT industry while at the same time ensuring the business is stabilised after the events of the past year.
A major focus of the strategic review included a critical analysis of the portfolio; both in terms of refining the Group's focus and clarifying drivers of value over the longer term.
The initial phase of the portfolio review showcased, at the half year, a more streamlined business comprising three major pillars with clearer alignment of focus and groupings of value:
An ICT business focused on the traditional technology system integration.
The NEXTEC grouping of a variety of businesses at various stages of incubation for growth and scaling.
A group of high potential IP companies with scaled technology, ready to be taken to market with partners.
This was accompanied by a significant scaling back of our international operations; selling those businesses where we had limited competitive advantage or scale (e.g. international SAP operations) and integrating high potential businesses back into the major pillars as described above.
A further indepth review of the Group's capabilities has led to further evolution and clarification of the business model.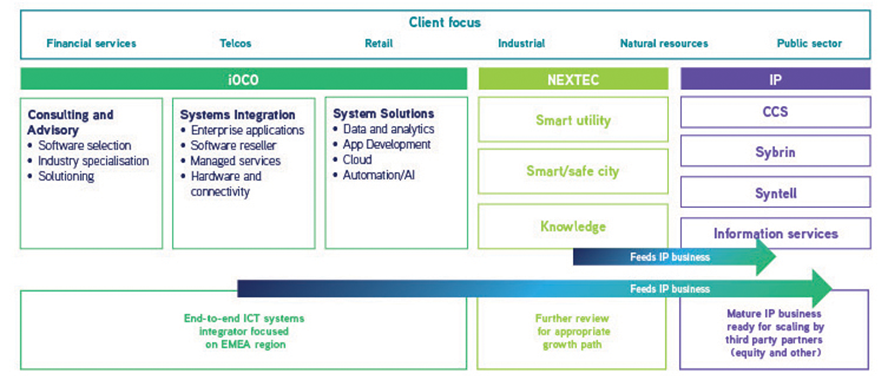 iOCO (ICT)
The ICT business has been successfully rebranded as iOCO. The following businesses have been launched under the iOCO umbrella and form the core of the business:
Consulting and advisory business to support clients through the journey of digital transformation; demystify choices and facilitate the design of custom solutions for client needs.
The traditional ICT business comprising enterprise applications and systems integration; hardware and network solutions businesses; software reselling supported by an extensive managed services offering.
The next evolution of the systems integration business offering extensive application development; data and analytics intelligence, and digital automation of industries coupled with cloud advisory and implementation.
NEXTEC
The collection of NEXTEC businesses include a wide range of businesses at various stages of maturity covering business process outsourcing, through to ioT devices and digitisation of engineering and construction businesses. This portfolio requires further scrutiny to determine the appropriate growth path and will result in a significantly smaller and more focused NEXTEC:

The business process outsourcing is being assessed in terms of the ability to scale the IP.
The engineering and construction businesses are challenged by the business and the Group's capital structure.
IP
The IP portfolio comprises a series of companies which are ready for the next stage of scaling:

The recent sale of CCS to RIB represents the future template for growth of these businesses. The partnership with RIB allows EOH access to a global partner with international scale that offers cross-selling opportunities for EOH and access to a previously inaccessible customer base.
This approach, which is aimed at expanding reach and scaling faster, will be replicated for the other IP companies and as such we are currently actively pursuing partners for Sybrin, Syntell and Information Services.
Under the new operating structure, the Group is well positioned to support client needs while balancing its portfolio diversity and focus.
BUSINESS PERFORMANCE
The ongoing weakness in the macroeconomic environment, the ENSafrica investigation and the reputational impact of Microsoft cancelling its licence reseller agreement as well as the delay in infrastructure projects in the NEXTEC business has led to depressed revenues and margin pressure for the 2019 financial year. Additionally, the Group has undergone a reassessment of its strategy which led to certain businesses being classified as discontinued operations and assets held for sale. Further businesses have been identified as assets held for sale and discontinued operations subsequent to year end, which are still classified as continuing operations in the period under review and have impacted reported results and margins. In addition, certain non-core unprofitable businesses are being wound down (existing projects are being concluded).
EOH's revenue from continuing operations was R11 791 million down 2,6% (2018: R12 103 million*). Gross margin for the year was 20,1% compared to 28,3% in the prior year. The margin was negatively impacted by the close out of large multi-year public sector contracts and the closure of projects in the industrial technology area related to electrical infrastructure in the water sector.
Operating expenses after stripping out once-off items for both the 2018 and 2019 financial years has seen costs decrease to R2,6 billion. Once-off items include impairment of assets of R2 263 million, a R157 million IFRS 2 charge related to the BEE transaction with Lebashe Holdco and its subsidiaries ('Lebashe') and settlements and provisions of R358 million.
Normalised EBITDA for the period amounted R792 million. The impact of the previously discussed onceoff items and impacts on gross margin resulted in a reduction in the profitability measures. Headline loss per share (HEPS) and loss per share (EPS) from continuing operations were 1 352 cents (2018: 728 cents) and 2 464 cents (2018: 1 277 cents), respectively.
Cash generated from operations after changes in working capital was R502 million (2018: R1 266 million).
OUTLOOK
Notwithstanding current challenges, the EOH Group is a business powered by its purpose to provide technology, knowledge, skills and organisational ability which are critical to the development and growth of the markets it serves and which are systemic to many of South Africa's economic stakeholders. The Group reinforces its commitment to ethical leadership and being a relevant force for good in society.
The new leadership team remains committed to future-proofing the Group by building a sustainable, agile and competitive business in an open and transparent manner while also ensuring that the right decisions are made for the good of all stakeholders at all times.
Core to creating a sustainable business are the people of EOH who have shown great loyalty and commitment during this difficult time. EOH is committed to ensuring that the Group flourishes; that the 10 500 people who work for EOH have job security and that there is an opportunity to create further jobs in the economy.
EOH is encouraged by the active support that it has received to date from its clients, technology partners and employees to help build the EOH of the future.
The condensed consolidated results were approved by the Board on 11 October 2019.
Stephen van Coller
Chief Executive Officer